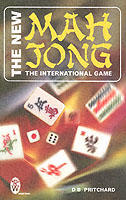 The New Mahjong - The International Game
The New Mahjong
The New Mahjong - The International Game
The game of Mahjong, also knownas the game of four winds, is derived from traditional Chinese card games. Lacking any international authority, it has up to the present been played in scores of different ways throughout the world.
in 1998 the Chinese government declared mahjong to be an official sport and published a unique set of rules, defining 81 scoring hands and designed to standardise the game throughout the country. In 2002 these rules were adopted in the first World Chanmpionship, held in Tokyo, which attracted players from many countires and they were formally declared to be the official rules for all future international events.
Previous forms of the game will intime inevitably be replaced by the new mahjong. This book explains the 81 scoring hands and the rules governing them. It is, therefore as well as being ideal for beginners, essential reading for mahjong players everyewhere.
By David Pritchard