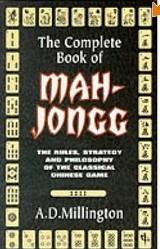 The Complete Book of Mahjongg
The Complete Book of Mahjongg
The rules, strategy and philosophy of the classical Chinese game
The Complete Book of Mahjongg is the most authorative guide to the game according to the classical Chinses rules. It will be invaluable to both beginners and more experienced players alike.
The rules, complicted rituals, tactics and scoring system are set out clearly, suplemented with over forty diagrams. Chapters are also included on the history and rival forms of Mah-Jongg.
For the more advanced, the book discusses the elements of luck and skill involved and describes how the game can be played at many different levels.
By A D Millington