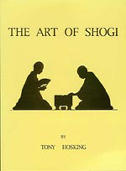 The Art of Shogi
The Art of Shogi by Tony Hosking
The first comprehensive guide to Japanese chess in English for complete beginner and advanced (dan) player.

288 pages with 725 diagrams

An account of professional shogi in Japan (20 million Japanese can play!). In-depth guide to strategy and openings (plus handicap games). 108 annotated professional game references, including the first 8 title games outside Japan. Comparison and brief history of shogi and Western chess - which share the objective of checkmate, and some similar movement of pieces (kings, rooks, bishops, knights, pawns).
ISBN 0953108902
Publication Date 31/03/1997
Imprint The Shogi Foundation
Publisher Shogi Foundation
Binding paperback