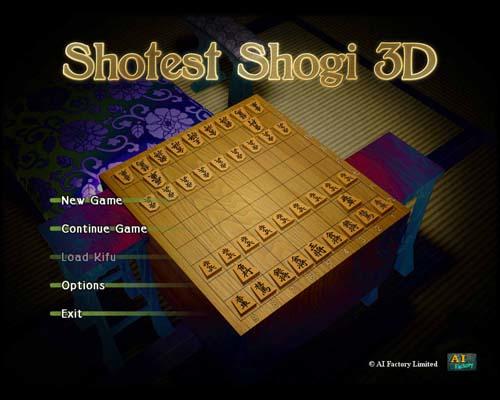 Shotest Shogi 3D Demo Download
Shotest Shogi 3D - Demo
NEW PRODUCT ! Released June 2008 - with the latest Shogi engine!
You can download and play this product immediately upon completion of secure credit card payment - full instructions at the bottom of the page. This is a complete version of Shotest available for PC outside Japan for the first time ever! This product, as "3D Shogi", currently sells in Japan, where it has recently been a top selling Shogi program.
Shogi is Japan's rival to western Chess and is actually more popular in Japan than Chess is in the west. This is not surprising as it is a richer, more dynamic game, with more possibilities and scope for trading material for positional advantage. Although hugely popular in Japan its prominence outside Japan is probably limited due to its dependence on Japanese kanji characters to display the pieces, which westerners find harder to read. Shotest Shogi 3D bridges this gap, providing western-style sets, including a piece design that also shows the legal moves for each piece.
 
Computer Shogi has been a long-term core speciality of AI Factory Ltd: Shotest has been competing in the Computer Shogi World Championship in Japan since 1997, where it created great interest when it came 3rd out of 35 programs in 2 successive years. No other western program has matched this ranking. See the AI Factory newsletter for competition reports.


Shotest Shogi 3D provides an added richness to the playing experience, with highly realistic 3D environment and beautiful piece sets on a traditional Kaga wood board. The game is set in a traditional Japanese room while Japanese music plays in the background, bringing you closer to the real experience of this highly aesthetic Japanese game.
You can read more about Shotest Shogi 3D on its homepage here.

Minimum requirements:
Windows 2000, XP, Vista
1GHz Pentium III
256mb system memory
100MB Hard disk space
DirectX 9.0c compatible graphics card 64MB video memory (Geforce 2 or better)

Download / Installation Instructions
Important information; you will be emailed download instructions for your copy of Shotest Shogi 3D. Once you have downloaded the self-extracting archive, please make a backup copy on CD for your own records. Upon installation, please ask to install a TRIAL SYSTEM. This will connect to verify your copy and then automatically unlock it to create a fully functioning version.
 
Shotest Shogi 3D is licensed for your own personal use only, and your copy is automatically encrypted by our secure copy protection. Illegal copies are easily traced and will automatically be disabled.  Please note that Shotest Shogi 3D Download is protected by CopyMinder copy protection, which requires occasional internet access for verification purposes. If you are going to use Shotest Shogi 3D Download on a laptop when travelling with no internet connection, the advice from CopyMinder is to run Shotest Shogi 3D Download before you leave home so that the copy protection will be refreshed.
 
The download size is about 35 megabytes
This is a demo download and will expire after 5 days.