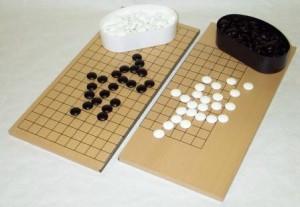 Play Go Today 3A (7mm glass stones)
A full-size Go set with a beechwood veneer 2-piece board (magnetic join), 19x19 grid, with a 13 x13 grid on the reverse. 180 each of black and white 7mm glass Go stones, held in push-shut plastic containers. A card instruction leaflet is included. The board is 45.5 x 42 x 1.4 cms,
A full size Go set with a magnetic join 2-piece board. The board has a 19x19 matrix on one side and a 13 x13 on the reverse.. The glass stones are 7mm thick and come in plastic containers along with simple rules.

Storage box 48 x 22 x 9 cm,
Weight 3580g.