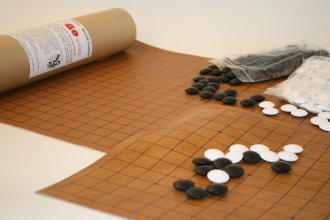 Play Go Today 1E - (19x19 + 13x13 in a tube)
A verastile full-sized game of Go, with two leatherette boards: a 19x19 grid measuring 45.5 x 42cm and a 13x13 "quick play" grid measuring 31x 29cm. There are 160 each of black & white 8.5 mm plastic stones and A4 leaflet of simple instructions.
Packaged in 45cm cardboard tube with 8cm diameter.
Weight: 996g