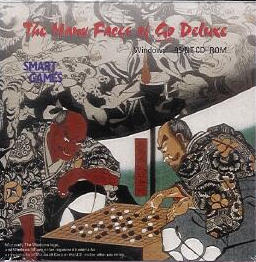 Many Faces of Go v12 Windows PC Demo Download
Many Faces of Go v12 Windows PC Demo Download
Many Faces of Go Version 12 Wins 2008 ICGA World Computer Go Championships
The Many Faces of Go 12,  2008 World Computer Go Champion 19x19 and 9x9. This download is over 5 stones stronger than version 11, and has calibrated levels from 2 kyu to 18 kyu to track your strength. It combines the new Monte Carlo Tree Search algorithm with the traditional knowledge-intensive techniques for a go player that is stronger than either.
It is one of the strongest Computer Go opponents in the world, and has what is regarded as the best user interface and tutorial in western Go software titles. Many other great features include an integrated IGS client so you can play on the internet, a sophisticated set of go problems and a Joseki tutor help you improve your game.
Includes all the learning tools, professional games, go problems, and go client from version 11, plus more.
Compatible with Windows XP, 2000, NT, Vista, 64-bit Vista, WINE, and other Windows emulation or virtualization software.
In order to download your free copy of Many Faces of Go, please click here. Please note the installation and unlock instructions below. 
The demo is a fully functional version of the Many Faces of Go program, widely regarded as the best Go software program.
You demo is time-limited - once it expires, simply return to the trading centre and purchase an unlock key here.
NOT TO BE CONFUSED WITH THE FREEWARE IGOWIN PROGRAM, THIS IS A COMPLETE VERSION OF MANY FACES OF GO, AVAILABLE AS A DOWNLOAD TRIAL FOR THE FIRST TIME EVER!
System requirements:
IBM-PC or compatible
Pentium or faster
Windows 95, 98, ME, NT, XP, 2000 or Vista
64 MB main memory
40MB hard disk space.
Download / Installation Instructions
Upon installation, please ask to install a TRIAL COPY. This is a fully functioning version of the product. Please note that the download will run for 5 days from first installation, and will only work once on each PC.  Terms and conditions apply - see our terms page for details.
When you you wish to reactivate the trial copy, please re-visit the trading centre to unlock the trial here