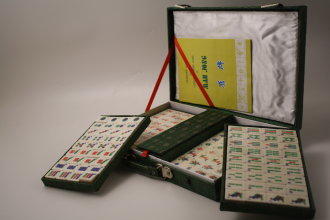 Small Mah Jong Bone & Bamboo in Simple Case
Traditionally colourful, genuine bamboo & bone tiles of superior quality with dovetail join, each 2.6 x 1.9cm.
A simple but functional hinged box, 30.5 x 20 x 4.5cm, with handle and toggle fasteners, containing 5 component trays, covered in Chinese patterned material. Manfacturer's instruction booklet included.
Weight: 1805g