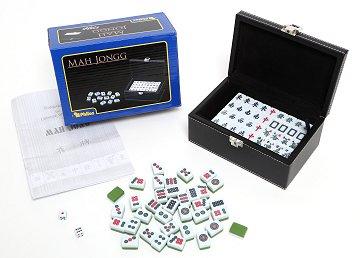 Mah Jong Set Black Leatherette
Mah Jongg is a very old Chinese game for 4 people. Out of a set of 144 tiles which represent different types and numbers, each player tries to collect sets of tiles according to the number and type shown on the face of each tile. The elaborated and complex rules, which are at the same time easy to learn, as well as the manifold rituals, make this an interesting game.
Number of players: 4
Recommended age: from 8 upwards
Playing time: approximately 60 minutes
Instructions: English, French, German and Spanish.
Box size: 155 x 100 x 70mm
Tile size: 13 x 19 x 11mm