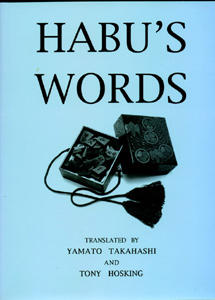 HABUS WORDS
HABU'S WORDS by Yoshiharu Habu, translated by Yamato Takahashi and Tony Hosking (128 pages)
First 7 Crowns professional title holder Yoshiharu Habu gives in-depth commentary to shogi games by players outside Japan.
Improve your shogi by listening to Habu's Words!
About Habu's Words:
In this book Mr Habu's clear and penetrating insight reveals how to think like a professional player. Each game given has been carefully chosen by him to illustrate an important theme of shogi thinking, namely:
•Fundamental strategy
•Make a plan
•Advancing a piece behind a pawn
•The moment to engage an enemy piece
•A vanguard pawn
•The main battleground
•King safety
•Developing attack through exchanges
•Thickness
•Speed
•How to continue the attack
•Progress
The games selected are by players (with grades ranging from 15-kyu to 5-dan) from various countries around the world - Belgium, Brazil, England, France, Germany, Holland, Sweden, Thailand, USA. By studying Habu's Words the amateur player can step up from one level of play to the next.
Author's note:
"If you read this book and find a new appeal of shogi, or it helps your improvement, this would give me great pleasure as an author." - Yoshiharu Habu